Nutrition
ADVICE FOR A HEALTHY LIFESTYLE

At Aspil we are very concerned about the nutrition of our youngest consumers.
It is important to encourage healthy lifestyles which include healthy dietary habits and physical activity (lifestyles learnt during childhood are more likely to be continued in adulthood).
SOME RECOMMENDATIONS
– Serve suitable rations of food in the main meals.
– Main meals should have a regulartimetable.
– Avoid eating in front of the television or computer.
– Establish regular and adequate rest patterns.
– Eat fruit and vegetables.
– Encourage physical activity and games involving movement.
THE PHYSICAL ACTIVITY PYRAMID

At the base are situated the exercises which should be done every day or as often as possible. On a day basis, children are encouraged to keep moving and avoid being sedentary by enjoying outdoor activities.
On the next level we can find the activities recommended to be done from 3 to 5 times a week, with a minimum duration of 20 minutes. These are energetic activities and sports.
On the following level are those activities which can be done 2 or 3 times a week. These are activities designed to improve flexibility and strength.
And at the top of the pyramid we find the tasks which children should least be required to do.
THE FOOD PIE-CHART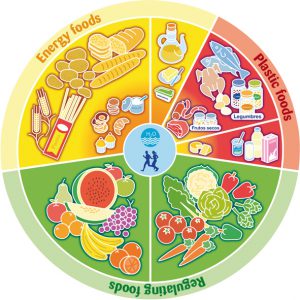 The FOOD PIE-CHART helps us learn about the proportion and frequency of different food-types in the diet. The foods found in the biggest "slices" (carbohydrates, fruit, vegetables) are those which should be eaten most. The smaller the slice, the less should be eaten. SEDCA'2007
ENERGY FOODS
1. Flours and starch: Pasta, rice, potatoes, cereal, pastries, bread.
2. Fats: Oil, vegetable fats, butter, margarine, vream, bacon, other fats.
PLASTIC FOODS
1. Proteins: Meat, fish, eggs, cold meats, legumes, nuts.
2. Dairy products: Milk, yogurt, milk desserts, cheese.
REGULATING FOODS
1. Vegetables: Vegetables of any kind and in any form: stewed, panaché, puree, soup, varied salads dressed with oil and/or vinegar.
2. Fruit: Raw fruit and its juice; boiled, roast and pureed fruit.
WATER
1. Hydratation: Drink about 1.5-3 litres of water a day (including infusions, soups, etc.), depending on sex, physical activity and ambient tempreature.